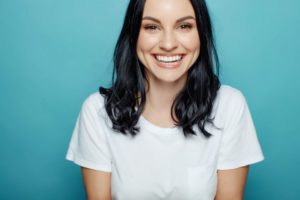 It's not always easy to shop for someone you care about, and this holiday season, you might be struggling to think of the perfect gift idea for someone close to you. After all, how do you that your gift will be something they love and appreciate, but also something they can enjoy on a daily basis? Teeth whitening might be the idea you've been searching for! Here's more from your dentist about this awesome cosmetic treatment option and what makes it the perfect gift idea for your loved one.
What Is Teeth Whitening?
To put it simply, teeth whitening is a cosmetic treatment process used to enhance the appearance of a patient's smile. It's relatively straightforward and is capable of providing impressive results that can whiten your teeth by several shades!
Your dentist has access to special tools and professional-grade whitening agents that are stronger than anything you can buy at the store. They can safely polish your teeth in a matter of minutes, removing any visible stains and restoring your enamel to its beautiful natural color!
Who's a Good Candidate for Teeth Whitening?
It's worth nothing that teeth whitening isn't a perfect solution. For extreme and stubborn discoloration, your dentist might have to suggest other cosmetic treatment options like veneers. That said, teeth whitening is completely safe, can last from six months to three years, and is quite effective when it comes to addressing most stains. It can assist with discoloration caused by things like:
Foods and drinks with staining agents like coffee, red wine, soda, berries, red sauces, etc.
Daily wear and tear.
Genetics and certain medication.
What Makes Teeth Whitening the Perfect Gift Idea?
A person's smile is one of their most noticeable features, and having whiter teeth is certain to lead to an increase in self-esteem. When you give someone else the gift of a whiter and brighter smile, you're giving them boosted confidence that is sure to yield positive results! Also, showing someone that you care about their smile is a very thoughtful gesture—and a thoughtful gift is the best kind of gift. And not to mention, teeth whitening is relatively affordable compared to other cosmetic dental procedures.
There's no need to scramble around looking for a gift for your loved one; teeth whitening is the perfect gift to show them that you care!
About the Practice
LG Dental Centre has proudly served patients and families in the Toronto area for several years. The practice pleased to offer several different cosmetic options including teeth whitening. If you have any questions about teeth whitening or would like to schedule a visit, you can get in touch with the practice through their website or by phone: +1 416-224-8300.